Touch presents... | Live in Lincoln Cathedral 19th October 2013
October 3, 2013: Permalink: » Touch presents... | Live in Lincoln Cathedral 19th October 2013
Two World Premieres from Chris Watson + Hildur Guðnadóttir, and Anna von Hausswolff
19th October 2013, 7:30 - 9:30pm, Lincoln Cathedral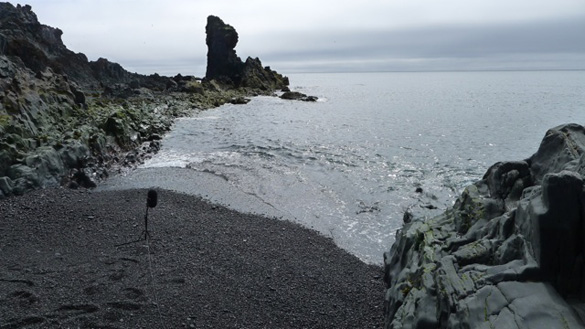 Touch is delighted to be invited back to play live in Lincoln Cathedral by Frequency, after the hugely successful 13th edition of Spire, which took place in the same space, in October 2011. You can purchase tickets here.
Chris Watson (field recordings) and Hildur Guðnadóttir (cello) will be collaborating on a brand new collaborative multi-channel sound work, titled "Sönghellir (The Cave of Song)" – a sound journey from under the waters of Faxafloi, Iceland, alongside some of the largest animals on the planet. Up, onto the lava beach, across the lava fields and reindeer moss to the foot of the snow mountain, Snaefellsnes. The journey continues up and then into the mountain, ending inside Sönghellir, the song cave…
On a clear day in Reykjavik, one can gaze northwest and see the shining Snaefellsjokull glacier, 60 miles away. Though the glacier is nowhere near in size to some of Iceland's others, it is by far the most mysterious and popular. It rests near lands end on one of Iceland's most beloved landscapes – the Snaefellsnes Peninsula – and its bright, mysterious beauty seems to embody the entire region. One of the reasons why Icelander's love the Snaefellsnes Peninsula so much (aside from its enchanting landscape brimming with lava caves, waterfalls, and mineral hot springs) is that it is a veritable heartland of history. Some of the best and most important sagas took place here, and it is said that Christopher Columbus once spent a winter in Ingjaldsholl, where he heard stories of lands to the west.
Anna von Hausswolff, a Swedish singer, pianist and songwriter, will be performing a new score for the organ, titled "Källan".
The Eternal Chord, an improvisational work from some of the artists present, will close the evening.

Further details at frequency.org.uk
Book tickets for Touch presents… Live in Lincoln Cathedral
Robert prize
January 28, 2013: Permalink: » Robert prize
Hildur has been nominated for the danish Robert prize for her composition for the film Kapringen http://www.filmakademiet.dk/
Hildur's new album, "Leyfdu Ljosinu" - CD, USB and Download
May 9, 2012: Permalink: » Hildur's new album, "Leyfdu Ljosinu" - CD, USB and Download
CD - extended digipak - 2 tracks - 39:25
Voice, cello & electronics: Hildur Gudnadottir
Recorded & mixed by Tony Myatt
Mastered by Denis Blackham
Artwork & Photography by Jon Wozencroft
Track Listing:
1. Prelude 4:11
2. Leyfdu ljosinu 35:14
Hildur Gudnadottir's new album 'Leyfdu ljosinu' (Icelandic for 'Allow the light'), was recorded live at the Music Research Centre, University of York, in January 2012 by Tony Myatt, using a SoundField ST450 Ambisonic microphone and two Neumann U87 microphones. (NB - It was not played in a concert environment and there was no audience.)
To be faithful to time and space - elements vital to the movement of sound - this album was recorded entirely live, with no post-tampering of the recordings' own sense of occasion.
A multichannel version (Touch # TO:90USB) is also available - a 2GB USB stick in hand-made (by the artist) paper cover.You can read more about this here.

Pre-order Hildur Gudnadottir "Leyfdu Ljosinu" [CD] in the TouchShop
Pre-order Hildur Gudnadottir "Leyfdu Ljosinu" [USB Stick] in the TouchShop
Hildur to tour with David Sylvian
December 2, 2011: Permalink: » Hildur to tour with David Sylvian
Hildur has been invited to join David Sylvian's 2012 "Implausible Beauty" tour. Hildur will be performing cello, vocals and electronics.
"I will be joining the lovely David Sylvian next year for his Europe tour. It is a very exciting ride and I hope to see you all out there somewhere."
Update:
It is with great sadness that we announce that David Sylvian will be unable to undertake the scheduled tour in March and April 2012. David has sustained a lower back injury that is causing him significant pain and affecting his mobility to such a degree that, at this time, he will be unable to perform. His management are hoping that with medical care his condition will improve siginificantly, and that we'll be able to reschedule the tour at a later date. We're doing all that we can to bring this unanticipated setback to a positive conclusion.
"Without Sinking" - double vinyl with bonus tracks
October 25, 2011: Permalink: » "Without Sinking" - double vinyl with bonus tracks
Hildur's "Without Sinking" album is now available on double vinyl cut by Jason @ Transiton, in a Jon Wozencroft gatefold sleeve. This release contains 3 extra tracks in addition to the ten on the CD version of Without Sinking.
11. Baer was recorded in Berlin in 2009... Hildur plays Halldorophone and cello.
12. Heyr himna smiður is an Icelandic hymn.The lyrics are written in 1208 by Kolbeinn Tumason. Music written over 700 years later by Thorkell Sigurbjörnsson, arranged and recorded by Hildur Gudnadottir. Performed by Hildur Gudnadottir (vocals, piano) and Skuli Sverrisson (bass). Recorded in the Civitella Ranieri castle in Umbria, Italy.
13. Iridescence is co-mixed by BJNilsen, also featuring Skuli Sverrisson (bass) and Johann Johannsson (organ).
Buy the vinyl in the TouchShop.